Supermom In Training: Instilling gratitude in children for #givingtuesday | Parenting 101
2 min read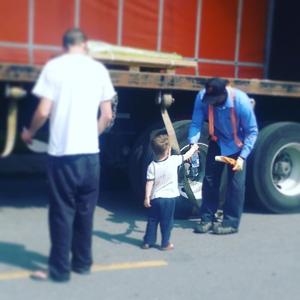 I am grateful. I am soooo grateful. I have a warm and wonderful home, and a partner to share my life with, and I have a beautiful and healthy little boy who literally makes my heart sing every single day. I was thinking about a church homily I heard once about planning for the future but also finding a balance living in the present as well, and taking stock in what you do have in your life. I try to do that every day, numerous times a day. And I want to teach my son gratitude.
That entails being observant. When we're surrounded by his toys and books and things, we often stop to look around us and pause to see how lucky we are that we have so many toys. I want my son to realize how much we have (and it's too much, really).
We also look at what's going on around us, and we talk about how can we help these people in any way possible (we recently gathered loads of clothes and toys for donation). We reflect on our own blessings and, again, how lucky we are to have a roof over our heads, food on the table, etc.
We acknowledge when we receive gifts by writing thank-you cards or even making artwork for the person. My son is quite popular with the church-goers of my parish, and they would frequently pick up little cars and trucks for him. And we would always go home and make them something for the following Sunday to thank them. We'd talk about how nice it was for that person to stop and take time to think about our bean. And I think he genuinely feels lucky to receive these little gifts.
We buy for others, together. If we know it's someone's birthday, the bean always helps me choose the gift. Yes, I may encounter the requests to buy him something too, but I'm adamant about not doing so, because he has to learn that we do for others. And he's usually very good about it.
We stop and thank people. Food vendors and store employees. We hold doors for people. We wave "thank you" when cars let us cross the street. If there's one way to raise a conscientious, thoughtful child, it's by teaching gratitude. Every day.
How do you teach your child gratitude?
A full-time work-from-home mom, Jennifer Cox (our "Supermom in Training") loves dabbling in healthy cooking, craft projects, family outings, and more, sharing with readers everything she knows about being an (almost) superhero mommy.