Supermom In Training: $100 Birthday Party Series – Tweens | Parenting 101
2 min read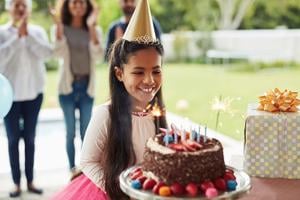 Birthday parties can be no fun for busy overextended parents. I'm excited to bring you my $100 Birthday Party Series with great ideas for themes, menus, decorations and even gifts for all age groups, all for under $100. Come back every week for more birthday party suggestions.
Ah yes – tweens. They can be tricky to handle and even trickier to plan a birthday party for. Believe it or not, it's relatively easy to keep tweens happy on their big days – it's about creating a chill, laid-back atmosphere where he or she can hang out comfortably with their friends. A fun activity and some cool noshes will keep your tweens and their best buds happy.
For the boys, consider a video game party or something more active, like a cool obstacle course, a neighbourhood-wide scavenger hunt or a ball hockey tourney. Have an inexpensive prize for the winner at the end, like a gift card.
For the ladies, spa parties are a  big hit at this age. Invite the girls to bring their favourite polishes and makeup, or do homemade face masks, manis and pedis. Maybe a dance party is more up your daughter's alley – smoke machines, strobe lights or disco balls can really turn a room into a discotheque, and throw in some fun accessories like blow-up microphones and guitars. Perhaps there's a craft project the girls would like to do: tie-dye shirts or canvas bags, painting ceramics (use oil-based Sharpies on plain dishes and then bake at 300 for 30 minutes), making their own lip gloss or soap, and so on. 
Food should be simple and easy to munch on: pizza, nachos, a French fry bar, make-your-own tacos or subs, a milkshake or smoothie bar, etc.
Forgo the usual decorations and go simple: a banner and some balloons. A photo booth spot could be fun too.
A full-time work-from-home mom, Jennifer Cox (our "Supermom in Training") loves dabbling in healthy cooking, craft projects, family outings, and more, sharing with readers everything she knows about being an (almost) superhero mommy.