Parenting 101: Homemade teacher appreciation gifts for World Teachers' Day | Parenting 101
2 min read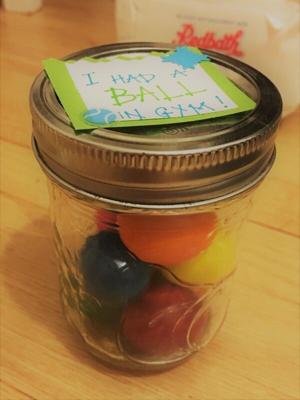 There's no one I want to show more appreciation toward than my son's teachers. All of them. The aids. The gym and music teachers. The volunteers. Heck, we even made a thank-you gift for the janitor.
And it doesn't have to cost an arm and a leg. Homemade gifts show that you and your little one took the time to make something for them, and they can cost very little. Here are some quick ideas for homemade teacher appreciation gifts.
Custom wine labels. Yep, I gave my kid's teachers wine. Because they deserve a drink. They got wine at the holidays and are getting wine again. I made up quick labels that said "Thanks for helping our kid learn how to think, Now it's time to have a drink."
We also made small pedicure kits for my son's teacher and teacher's aide. We bought items at the dollar store (a fun summer cup, nail file, polish, toe separators, etc.) and attached a small tag that says "Have a toe-tally awesome summer."
His music teacher is getting a small canvas where the bean painted some musical notes. Yes, they're not to scale (pun intended), but they were created by him.
For his two gym teachers, they're getting mason jars filled with gumballs and a label that says "I had a ball in gym." Just a small token to show our appreciation.
And finally, the janitor. My son had his heart set on getting him a trophy, which we found a plastic one at the dollar store. Then we glued a tiny mop to it (from my old dollhouse), although we were going to just make one from a small skewer and some thread. The janitor seemed very touched.
Don't spend an arm and a leg. And do show your gratitude. Even a box or tin of homemade treats or cookies would surely brighten their days.
A full-time work-from-home mom, Jennifer Cox (our "Supermom in Training") loves dabbling in healthy cooking, craft projects, family outings, and more, sharing with readers everything she knows about being an (almost) superhero mommy.