Parenting 101: Best games for a rainy day | Parenting 101
3 min read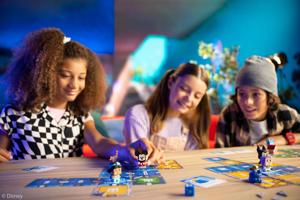 Fall weather is sweeping in and with the rainy days in the forecast we'll be looking for indoor activities to keep our kids entertained. Here are six great board games by Funko Games that will appeal to young kids and parents alike.
Dr.Seuss Pattern Party (Ages 3+) – This is a great easy game to teach kids about patterns and shapes. Gameplay is relatively short, which is fantastic when playing with little kids who might not have enough patience to sit through longer games yet. Players each get their own spinners and have to make a pattern that matches the one on their chosen card. This is also a good game to introduce children to strategic gameplay. They will have to make decisions such as whether to focus on their patterns or use a turn to block an opponents pattern.
Dr.Seuss Thing One and Thing Two Where Are You (Ages 3+) – If you're looking for a game with a little more flexibility and movement, then this is a perfect game for you. One player hides the Things squishy, then the other players ask question to get clues. If you turn over the "Go Look" tile it's time to go look. This is a quick game but if your kids are anything like mine they'll want to play over and over again. It's a great way to work on their memory while also keeping them moving as they run from room to room looking for the Things.
Disney Happiest Day Game (Ages 5+) – We haven't been back to our happy place since January 2020, so when I saw a game set at my favourite Disney theme park I had to try it. Players race around the Magic Kingdom park visiting all the classic attractions and meeting characters in an attempt to collect as many cards before Tinker Bell reaches the top of the castle, turning day to night. We had a blast playing this game, while feeling nostalgic for our favourite park. The card questions were also fun to answer, such as "what's the best thing to do while waiting in line" or "what's your favourite land?" It was always interesting to hear my kids' answers!
Disney's Kingdomania (Ages 6+) – This game combines two of my children's favourite things; it's a board game and a mystery pack. Kingdomania is an expandable game that can be played solo or as a group. The premise is simple, keep the glitches out of the Nexus! Of course, with the luck or bad luck of a roll of a dice the game could go either way. I'd advise to take your time reading through the instructions while the kids play with their little figurines. Once you understand the gameplay it's very simple and enjoyable. I love that it can be expanded with collectible characters. Kingdomania will be available as a game ball (1 player) and as a super pack (1-2 players) and they can all be combined. I suspect my children will find a game ball in their Christmas stockings this year!
A Goofy Movie Game (Ages 7+) – It's a race across the country to make it to the Powerline concert in LA. Players want to be the first to the concert venue to score the best seats, but don't forget to make memories along the way! This is a simple straight forward game that's easy enough for the younger players and enjoyable for the older ones. When we tried this game out we each had different strategies going. Is it best to race to the venue to score the best seats, or is it better to collect as many memories as possible? You'll have to play to find out.
Big Thunder Mountain Railroad (Ages 9+) – I could not wait to get my hands on this game, it's based on my favourite Magic Kingdom roller coaster after all, and it did not disappoint! We all played with a different strategy and ended up being bested by our youngest player. Players are tasked with growing their mining operations and investing in the town business. Of course, strategy can only go so far when the paths that the marbles take are completely at random. This game is a great combination of strategy and pure luck.
Meredith is a Disney obsessed stay-at-home mom. When she's not planning a trip, you'll find her with her nose in a book. Follow her on Instagram.