Nawaz: Whither the Fruit Roll-Ups? Parenting is trickier than it was in the '80s
5 min read
Saying no to your child is hard. But saying yes often feels worse.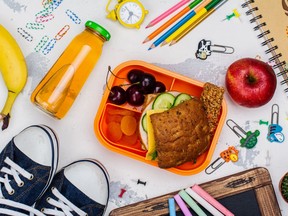 Article content
Parenting is trickier than it used to be. Or maybe it just feels that way because we're trying so hard. Never has a generation of parents been so besieged with information about what we should and shouldn't be doing.
Article content
It starts in pregnancy, when just a few clicks around the mommy blogs can trigger guilt for choosing an epidural over natural childbirth or for celebrating once your kid is old enough to sleep in their own room.
But the less said about the baby years — and the many internet-amplified anxieties attending sleep-deprived parents — the better. Fast forward to elementary school, when lunches become the proving ground for parental virtue. As a kid in the '80s, you might have found a Fruit Roll-Up in your lunch box or even a Handi-Snack, prepackaged crackers with spreadable orange cheese goo.
Now everyone knows more about healthy eating and the bar is higher. When my daughter attended kindergarten in the Eastern Townships, parents received reminders not to send any cookies, Goldfish crackers or granola bars. Only fresh fruit or fruit bars were permitted. At the local public school here in Montreal, her Grade 1 class did a month-long nutrition unit culminating in a healthy breakfast challenge. At this point, I'd no sooner pack a Fruit Roll-Up in her lunch bag than I would a full-sized chocolate bar.
And TV. When I was growing up, cartoons mainly belonged to that most sacrosanct time of the week: Saturday morning. Now, thanks to streaming platforms and hand-held devices, there are commercial-free kid shows, movies, and games available any time, anyplace, entertainment almost as ubiquitous as the messaging for parents about the dangers of too much screen time.
Article content
Then there's the merchandise. In the '80s, my mom had to contend with shows like Care Bears, She-Ra and My Little Pony, which were created to market the associated toys. But these days, companies like Spin-Master have raised that lucrative business model to such an art form that nobody stands a chance — as evidenced by the complete set of Paw Patrol figurines, vehicles and the three-foot tall deluxe Lookout Tower in my kid's bedroom. Every successful '80s franchise has now been rebooted for that additional push into parental nostalgia … and wallets. You can avoid stores all you want, but any toy is just a mouse-click away via online retailers. And the kids know it.
Growing up in Ottawa, I looked forward to the midway at the Super Ex (R.I.P.) every summer. But for Montreal parents, La Ronde is accessible for more than five months of the year. Then there are all the indoor entertainment centres. Places like iSaute, Funtropolis, O-Volt, Skytag are huge facilities built for kid fun. Centres like these are already a billion-dollar industry globally and poised to keep growing.
There are a thousand more kid-oriented delights and distractions on offer than ever before, at a time when parents know better than ever all the reasons we shouldn't simply say yes. Not only because of the enduring risk of raising spoiled children, but because of everything we know that our own parents didn't have to reckon with: that plastic is a major problem for the environment, that too many toys are manufactured overseas under questionable conditions, that growing consumerism contributes to global inequality.
Article content
Saying no to your child is hard. But saying yes often feels worse.
It's tempting to hearken back to those legends of the '70s, those near-mythical parents who lived their best lives while letting their kids do whatever they wanted, back before juice was considered evil and kids could roam freely in packs around the neighbourhood. Yet these days, there is a fear you could be arrested for letting your kid play unsupervised at the park, as seen in some cases in the U.S.
But beyond the debates about "free-range" versus "helicopter parenting," most parents I know simply want to shift away from the authoritarianism of the families in which we were raised. We don't spank our kids. We listen to them. We empower them to share their ideas and to advocate for themselves. We seek out early intervention for ADHD and other learning differences. We stress out about screen time, school lunches, toys and park outings, and we try to do everything right, amid an endless onslaught of information.
My generation has transitioned from a parent-focused world to a child-focused world, with timing that's great for our kids but taxing on us … and our own parents can't understand.
The other day my daughter said she wanted to stay a kid forever, while I tried to talk up the benefits of adulthood. But the truth is that though it's a hard time to be a parent, it's a pretty great time to be a kid.